Adaptavist, Tempo and ACA present live webinar
Webinar - Tools for teams - Digital event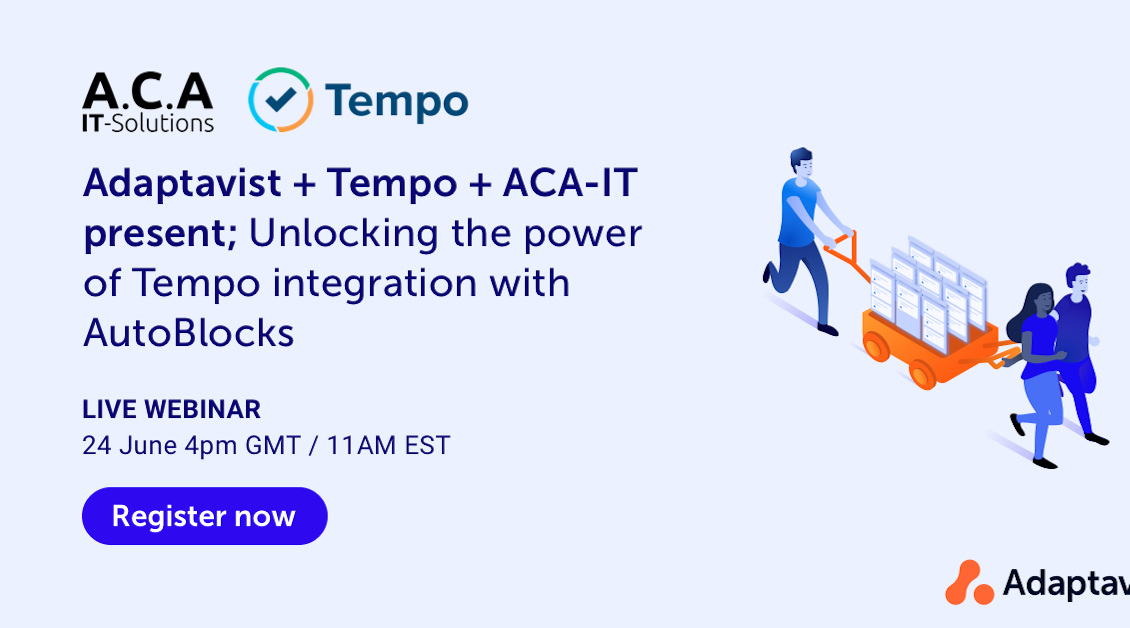 About the event
Adaptavist, Tempo, and ACA IT-Solutions join forces to bring you this interesting webinar!

Find out how how to easily navigate the challenges of migrating Tempo Timesheet data from anywhere to anywhere.
In this event we cover
How AutoBlocks can integrate Atlassian and third party apps to solve migration, synchronisation and integration challenges fast.


How to use AutoBlocks to get Tempo data from cloud to cloud, on-premise to on-premise, Jira to something else and everything in between.
Event hosts and guests

Seb Sidbury
Senior Product Marketing Manager
With over ten years' experience in Product Marketing in industries ranging from Tech to Automotive, Seb is passionate about defining and bringing innovative products to market. At Adaptavist, he is the Senior Product Marketing Manager responsible for expanding Ataptavist's product portfolio beyond the Atlassian space.

Walter Buggenhout
Atlassian Ambassador, ACA Group
Walter has been working for more than 10 years at ACA Group, most of that as an Atlassian consultant. While still supporting customers to improve their PMO and Service Management, Walter is also strongly engaged in the Atlassian Community and partner network, driven by the belief that we can build better things when we build them together.

Daniel Scott
Director of Product Marketing, Tempo
Daniel Scott is the director of product marketing at Tempo and a strategic marketing and communications leader with extensive international experience and a proven track record helping define and drive strategies to maximize revenues, market share and customer satisfaction, leading to higher profits and greater market reach.
What you will learn
How AutoBlocks embraces code and blocks within its hybrid UI to provide superior developer experience
What can be accomplished with Tempo Timesheets' integration with AutoBlocks
How a customer uses AutoBlocks to synchronise data between two Jira and Tempo Timesheets instances