Employee Experience Day
Conference - Content & collaboration - Physical event
Date:
12/05/2022
Time:
10:30 - 19:00
Location:

Crowne Plaza Antwerpen

Gerard le Grellelaan 10

2020 Antwerpen

View location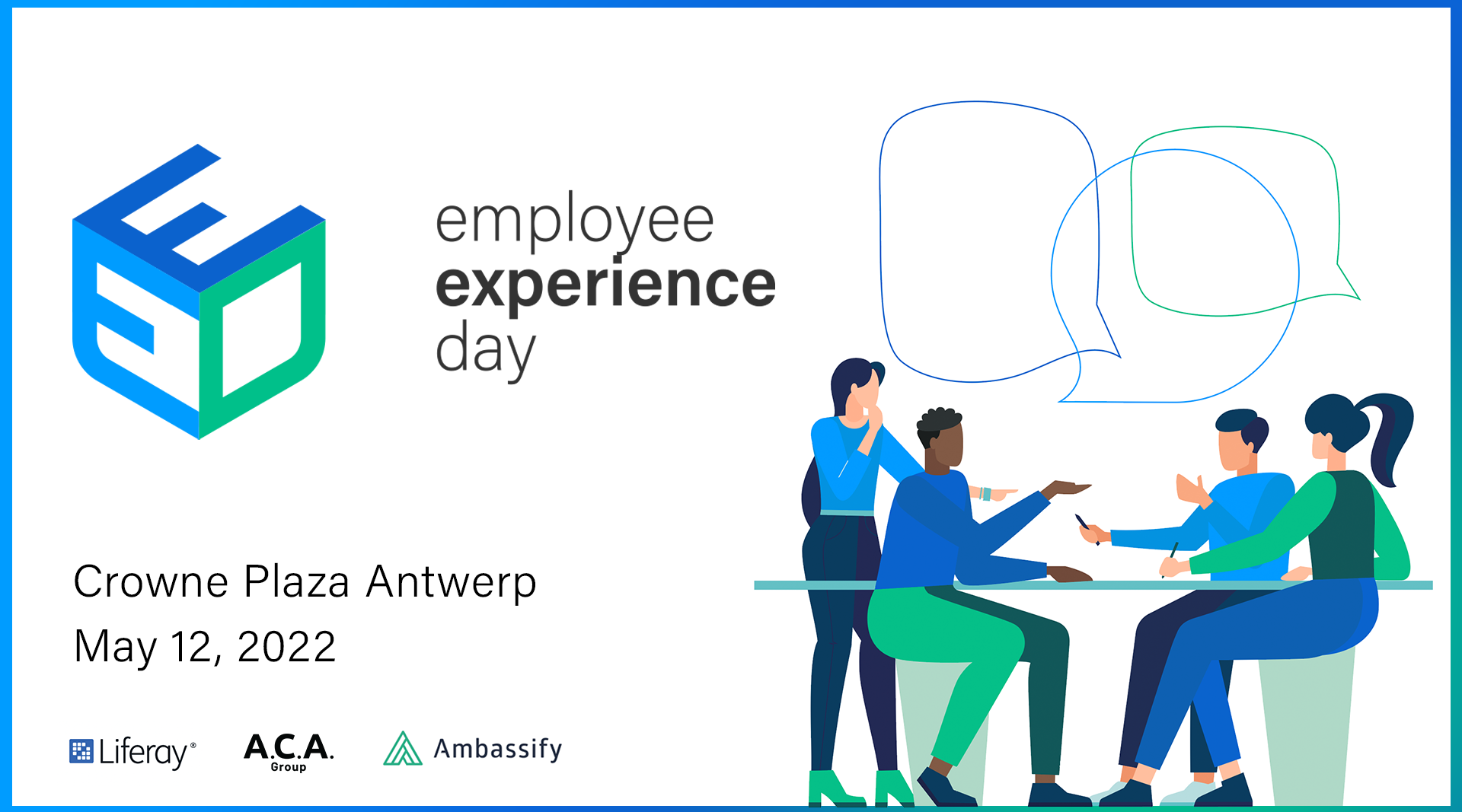 About the event
The Employee Experience Day is a unique & free event with a main focus on knowledge sharing and solutions around igniting employee engagement and participation in companies. Digital experience is more important than ever in today's world, this counts for your employees as well.
Get inspired by talks in which we dive deeper into digital experience, employee engagement and share our knowledge about a modern employee experience platform with interaction, gamification and self-service at its core.
Employee Experience Day is a joint initiative of 3 top players:
Liferay Inc as provider of Digital Experience Platform technology
Ambassify as SaaS provider of a unique employee advocacy engagement platform
ACA Group as a specialist in implementing and connecting these solutions
What to expect
Key players

Meet 3 key players in the market with tons of experience in employee focused platforms

Intranet 2022

Discover the customer success stories and evolution of modern intranets in 2022

Customer Success Stories

Identify yourself with interesting and relevant customer success stories about employee platforms

Interactive engagement experience

Be immersed in an engagement experience with interactive campaigns, poured with a gamification sauce

Win a free POC for your new intranet

Leave at the end of the evening with a backpack full of inspiration for your very own employee experience platform and get the chance to win a free POC for your new intranet

The importance of employee engagement

Discover why employee engagement and digital experience are so important to keep all of your employees involved.
Timetable
12.30 - 13.00 Reception
13.00 - 13.15 Welcome & Intro - Ronny Ruyters, CEO at ACA Group
13.15 - 14.00 Keynote talk DEX (Digital Employee Experience): Return of the Jedi - Danny Devriendt, Managing Director at IPG/Dynamic
14.00 - 14.30 Talk Don't miss the beat: Considerations and opportunities around the future of work - Edmund Dück, VP of Sales, EMEA at Liferay Inc.
14.30 - 14.45 Break
14.45 - 15.15 Talk Live: Gamification as a catalyst for employee involvement - Peter Mesotten, Digital Experience Expert at ACA Group
15.15 - 15.45 Customer Success Story: The war for talent & employer branding - Lotte Moors, Employer Branding Advisor at Infrabel
15.45 - 16.00 Break
16.00 - 16.30 Panel Discussion
16.30 - 17.00 Closure
17.00 - 19.00 Networking & Walking dinner
Talks & Speakers
Keynote speaker Danny Devriendt - Managing Director at IPG/Dynamic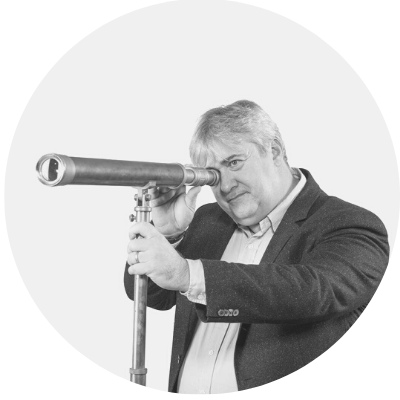 Bio
Danny Devriendt is the Managing Director of IPG/Dynamic in Brussels, the Chief Communications and Content Officer for IPG/Mediabrands Belgium and the CEO of the Eye of Horus, a global think-tank for communication-technology related topics. He is a seasoned business leader with an established history of working in the public relations, strategic communications and media industry. His ability to bring fresh ideas, actionable intelligence and out-of-the-box thinking to the strategic table makes him an ideal sparring partner and soundboard for the C-suite. An expert in corporate communications, influence, strategic positioning, exponential change and (e)reputation turns him into the secret weapon you hope your competition never taps into... He is also a guest lecturer at the Ghent University, StiMa, CommPass, CREA Geneva and the Solvay Business School.
Talk
DEX (Digital Employee Experience): Return of the Jedi
The corporate world has experienced a tectonic shift and is still rocking. Quarantining, lock-downs, and imposed homework are slowly making place for a renewed view on work. Hybrid, flexible. Freedom but within limits. Remote but with an invitation for social corporate gathering. Back to office, but not always.
The experience employees have with their employers is more and more anchored on a strong digital backbone. The workplace matured into a phygital construction. The workspace is more and more digitized. Employer Branding is a key weapon in the battle for talent.
Digital Employee Experience and Digital Customer Experience are the new three-letter-words.
How will we guarantee adhesion to corporate culture and values? How do we turbocharge internal communication? How will we share purpose and forge and maintain relationships?
Your Jedi knights are already there : time to unleash the untapped power of your workforce ambassadors….
Edmund Dück - VP of Sales, EMEA at Liferay Inc.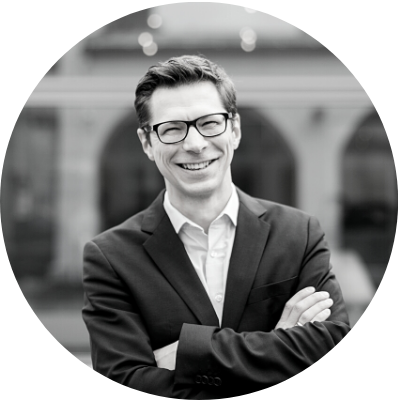 Bio
Edmund Dück is the VP of Sales, EMEA at Liferay, helping organizations to drive their digital transformation efforts across a large part of Europe, the Middle East and Africa. Edmund draws from over 25 years of experience in Leadership, Sales and Marketing, consistently leading teams that produce double digit growth. As a strong believer in the power of open source, innovation and positive leadership, Edmund regularly speaks at virtual and on-site events, consults decision makers in different industries and cultures in enterprise and non-profit contexts. In his free-time, Edmund enjoys spending time with his family, trail-running, reading poetry and contemporary art. He makes his home in Frankfurt am Main, Germany.
Talk
Don't miss the beat: Considerations and opportunities around the future of work
As we leave the dynamics of a global pandemic behind, one of the major challenges for today's decision makers is how to organise and enable their employees to do their best work while leading healthy lives.
This talk focuses on the most recent survey data around hybrid and remote work, inspiring stories from organisations that are leading the way, and the digital tools that enable them to do so. We are convinced that the right combination of practices will create exceptional employee experiences which, in turn, lead to a better work-life balance, increased efficiency, and stronger trust – resulting in customer satisfaction, momentum and growth.
Peter Mesotten - Digital Experience Expert at ACA Group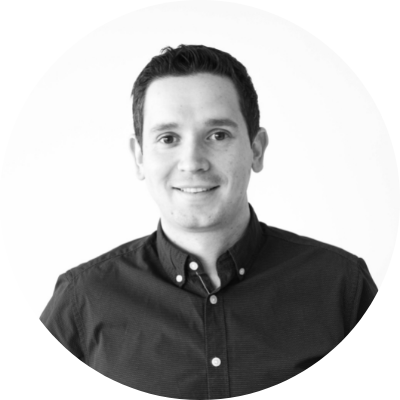 Bio
Peter has been working with Liferay since joining ACA Group. It all started in 2008 by rebuilding the company website in Liferay Portal 5. The size of the Liferay team of ACA quickly increased while Peter took on the role of technical lead, coach, and mentor for the newbies. Peter has contributed to more than 20 Liferay projects to date and contributed to winning the Liferay Community Excellence Award with ACA for four years in a row.
Talk
Live: Gamification as a catalyst for employee involvement
In most companies, the intranet is an important communication and collaboration tool. Yet, many companies struggle to make their intranet engaging and fun to use. In an ever involving and highly interactive world, this gives intranets a top-down and boring connotation.
Meet gamification. By introducing game-like elements to your intranet platform, you can incentivise your employees down the paths you want them to go. According to studies, gamification can boost your intranet adoption and overall employee engagement by more than 80%!
In this talk, Peter will demonstrate how the power of an intranet platform based on Liferay DXP, combined with employee engagement platform Ambassify, can give intranet gamification a head start in your company.
Still have some questions or need more information?
Don't hesitate to contact Peter!