CONTENT & COLLABORATION
SOFTWARE DEVELOPMENT
ACA Group receives Liferay Partner Award 2021
Liferay creates software that helps other companies create digital experiences on web, mobile, and connected devices. Each year, they host the Liferay global partner summit and give Awards in different categories to some of their partners. These awards recognize Liferay Channel Partners who have proven themselves consistently exceptional at delivering on client needs and driving business results.
The award categories include global and regional recognitions for: Overall Growth, Overall Sales, Global Systems Integrator, Innovation, Marketing Excellence, Social Responsibility, and Rising Stars.
"We are very proud to recognize these outstanding partners and celebrate their achievements," said Todd Jarvis, VP of Global Channel Sales at Liferay. "Partnerships and Alliances are critical to Liferay's continued success and we are committed to making our global partner ecosystem stronger each year. This year's award recipients, in particular, excel in having extensive technology, industry, and solutions expertise and share Liferay's commitment to providing innovative solutions for our mutual clients."
And the award goes to...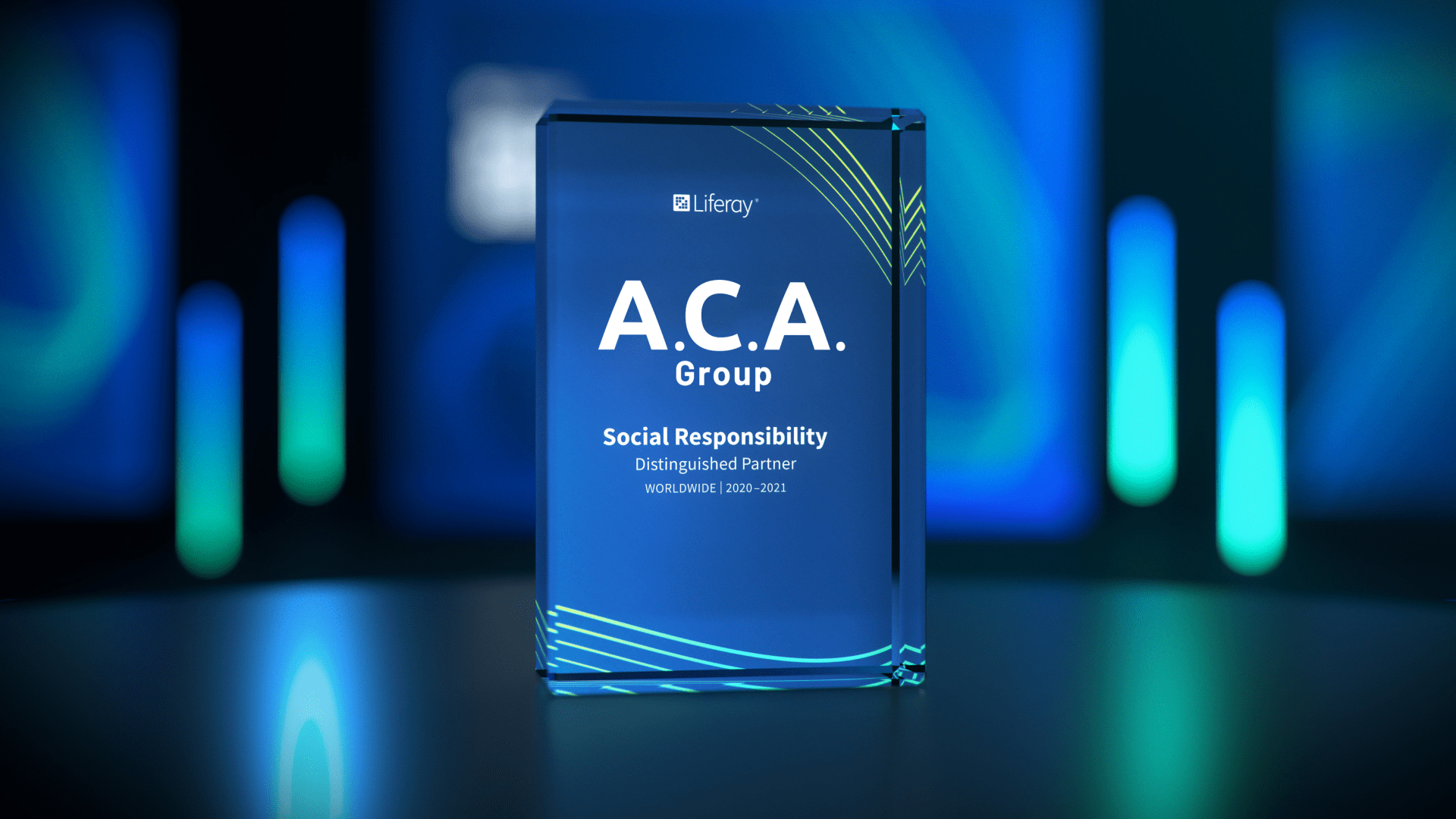 We are really proud to announce that ACA received the award for Social Responsibility Partner of the Year once again! In previous years, we've already had the privilege of being awarded with this beautiful recognition.
The Social Responsibility award honors the partner recognized for most closely aligning with Liferay's mission of making technology useful, investing in communities, and ensuring that everyone has a chance to meet their full potential in serving others.
ACA Group strives to be as sustainable as possible by taking care of our team's talents, society, environment and the economy. We are committed to the 17 international UN Sustainable Development Goals (SDG). Therefore we're extemely happy to achieve this award for all our work.
We're pleased to announce that ACA Group is the Global Social Responsibility partner of the year. This comes from the hard work they put into causing a positive impact on the world through community work, engagement with charities, organizing fundraising activities, and also offering innovative and sustainable solutions to customers. This matches not only Liferay's core values, but also is an example of how we can create synergy to help others thrive.

—

Edmund Dueck, VP of Sales at Liferay