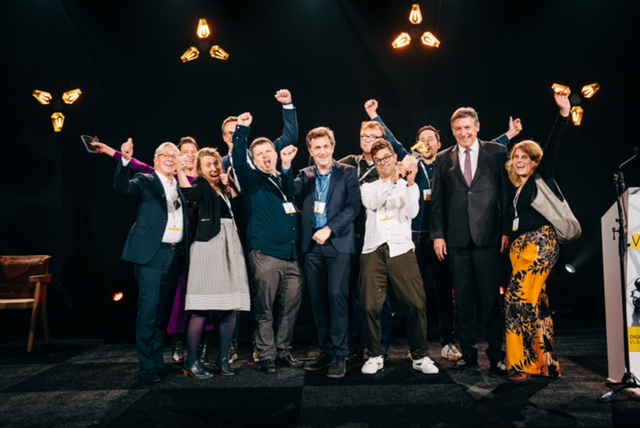 We are proud to announce that ACA Group has won the Flanders Digital Award 2023 for "Best Digital Transformation Project".
In collaboration with the Flemish Government and publiq we delivered a groundbreaking cultural - The Flemish Department of Culture, Youth, and Media (CJM) enlisted our expertise to create a data-driven platform for the cultural sector, harnessing the power of Data Mesh.
The platform has made a significant contribution to the digital transformation of the Flemish cultural sector, and we are proud to have played our part in this achievement.
Best Digital Transformation Project
The Targeted Digital Transformation program promotes a data-driven approach in the cultural sector with the UiTwisselingsplatform. The data mesh platform is a fundamental building block for the digital transformation of the cultural sector. It creates an ecosystem with the UiTwisselingsplatform at its core, enabling faster and more efficient development of new applications, benefiting both cultural participants and the cultural sector.
Data mesh architecture
Data mesh architecture ensures that the offering of cultural houses in Flanders is connected with each other and visitors can match the cultural offering in real time with their interests, receive recommendations and are offered tickets. At the same time, the organizers collect feedback about the audiences who attend similar events and how to reach those people.
"Thanks to data mesh, the various cultural players can retain their autonomy, but still share data with each other and innovate," says Tom De Wolf, Architect and Innovation Lead at ACA Group. "Ideal for complex organizations with numerous individual parties, such as in the Flemish cultural sector. A decentralized approach in which every player can work independently is much more scalable and efficient than having all data solutions for the entire sector centrally realized and managed by one data team."
Data mesh encourages cultural players to view their data as a product that they want to share and make it discoverable for other parties. Since no central data team is necessary for exchanging data, the data can be exchanged directly between the producer and the consumer using self-service tools. In this way we encourage collaboration around data in the cultural sector.
Flexible to scale up
"No matter how many players participate in the future, the data architecture can be scaled flexibly. Once cultural sector players have access to data products, they can quickly generate insights and design new services, products and data products based on them. The system ensures that they do not have to enter the same data every time, for example when they create an event or want to apply for a subsidy. Since the solution is made available across the industry, there is no need for anyone to invest in technology individually. This also reduces the total cost of ownership of the platform," says Peter Jans, Cloud and Innovation Advocate of ACA Group.
"Data is the driving force for the digital transformation within the cultural sector," says Leander Price, Head of Knowledge and Policy, Department of Culture, Youth and Media. "The Department of Culture, Youth and Media and publiq are developing, in collaboration with ACA Group, this data exchange platform that stimulates sharing and reuse of data within the sector. Through this building block, new innovative services and products can be developed for cultural participants and the cultural sector gains "better insights into the public interests in cultural activities."