ATLASSIAN
JIRA
ITSM
30/04/2020 • Dorien Jorissen
How we took Jira Service Management to a new level
We all know you can use Jira Service Management for your IT helpdesk, but did you know you can also use it for facility management? No? Then you definitely didn't imagine you can rent forklifts, scissor lifts and pretty much anything with Jira. In this blog post, I'll show you how we took Jira Service Management to a whole new level when it comes to possibilities and integration.
Setting up Jira Service Management
Our customer Clarebout, one of the world's largest potato products manufacturers, wanted to onboard their entire plant operations onto Jira. As a farmer in my free time myself, I just couldn't say no to that.
We started with the IT helpdesk and kept it simple, but effective. Since helpdesks are at the core of Jira's competence, this was a smooth process. (The screenshots below are in Dutch, English isn't the main language at Clarebout.)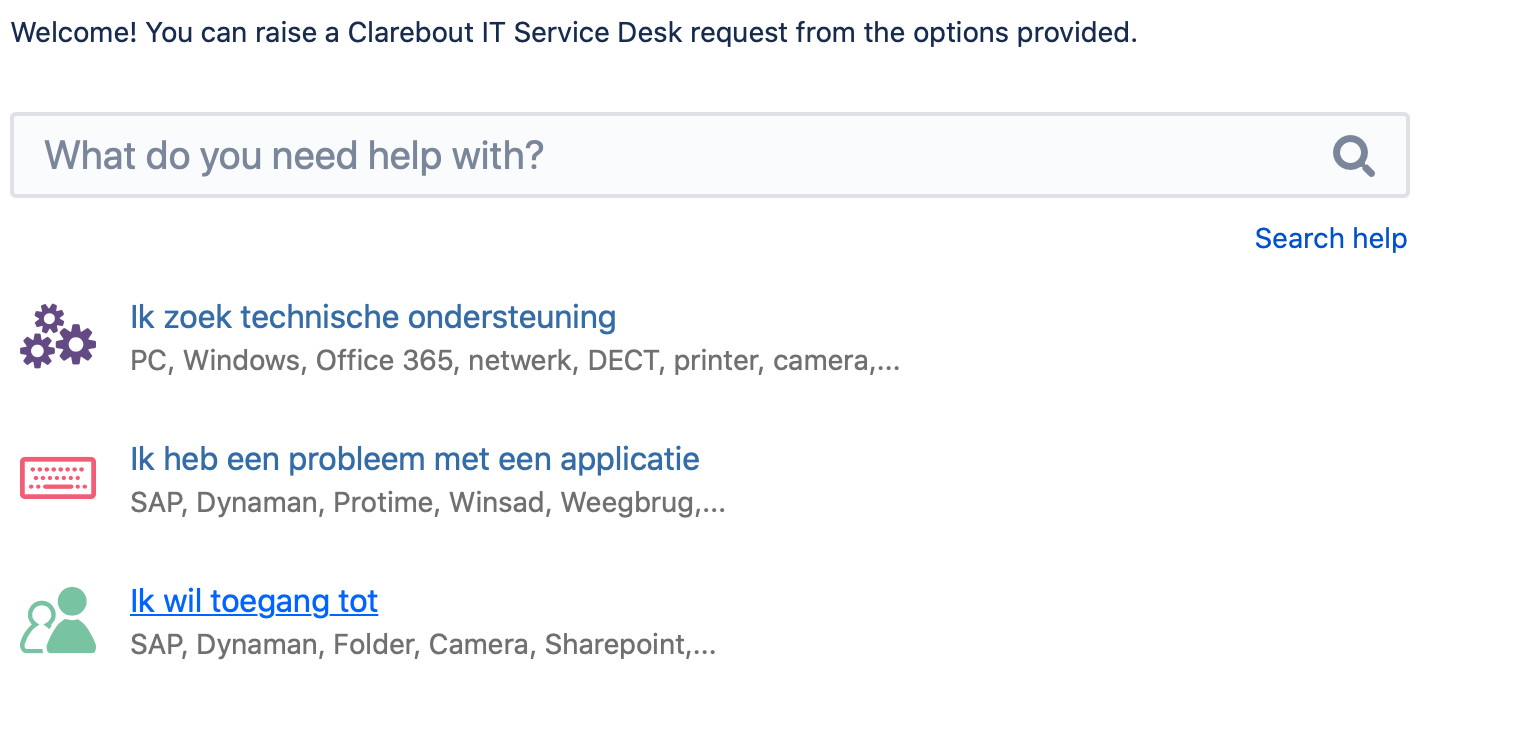 Facility management in Jira Service Management
After having covered the company's IT department, we moved on to its facility management. We set up a service desk to report things like a hole in the floor, broken glass, faulty lights, and so on.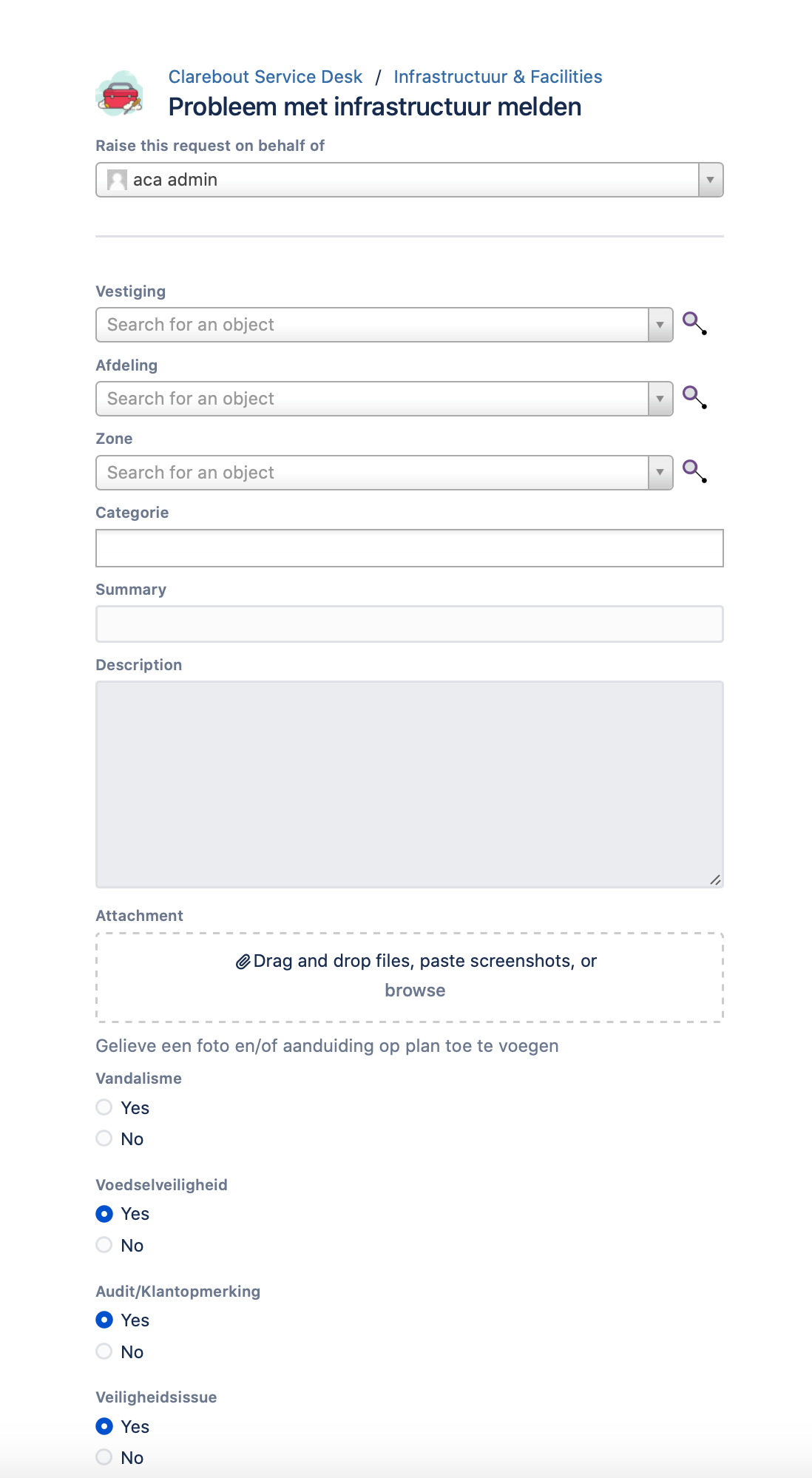 Since Clarebout's facility in this case is a food processing factory, risk based priority setting is one of the most important features. An incident's reporter can set 3 factors (Severity, Exposure, and Probability) that we use to calculate the global risk of said incident. When the risk is too high, we shut down the plant. No potato is worth risking a human life!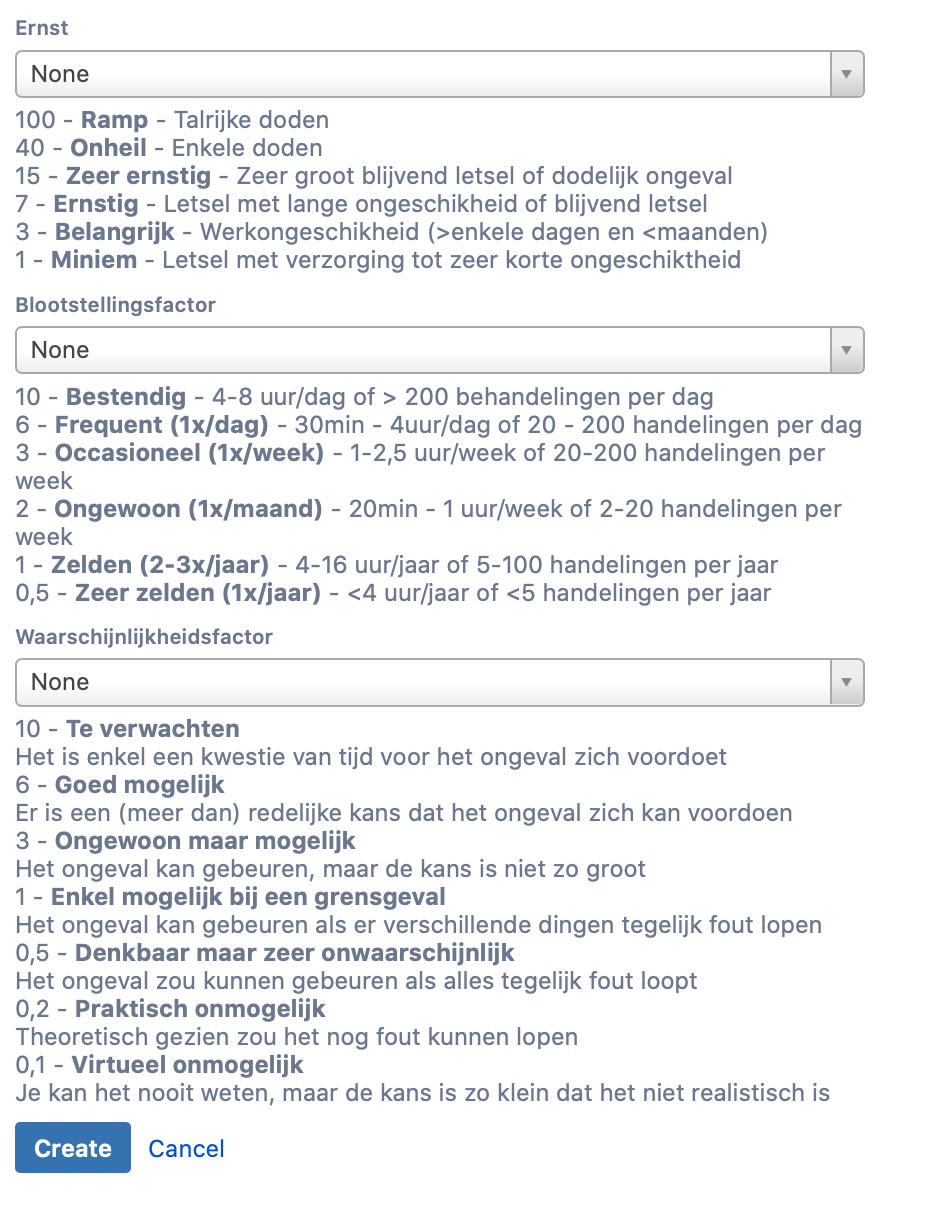 For IT infrastructure, plant locations and other CMDB data, we used Mindville Insight and some custom scripting combined with Lansweeper for population.
As I have my own farm and tractors at home, I really was in my comfort zone at Clarebout. So much so that I (together with the stakeholders, of course) decided to take Jira to new heights, literally. The next thing I was going to focus on was equipment such as forklifts and aerial work platforms.
Equipment management
First, we wanted the employees and external partners to be able to rent the needed equipment to do their maintenance in the facility.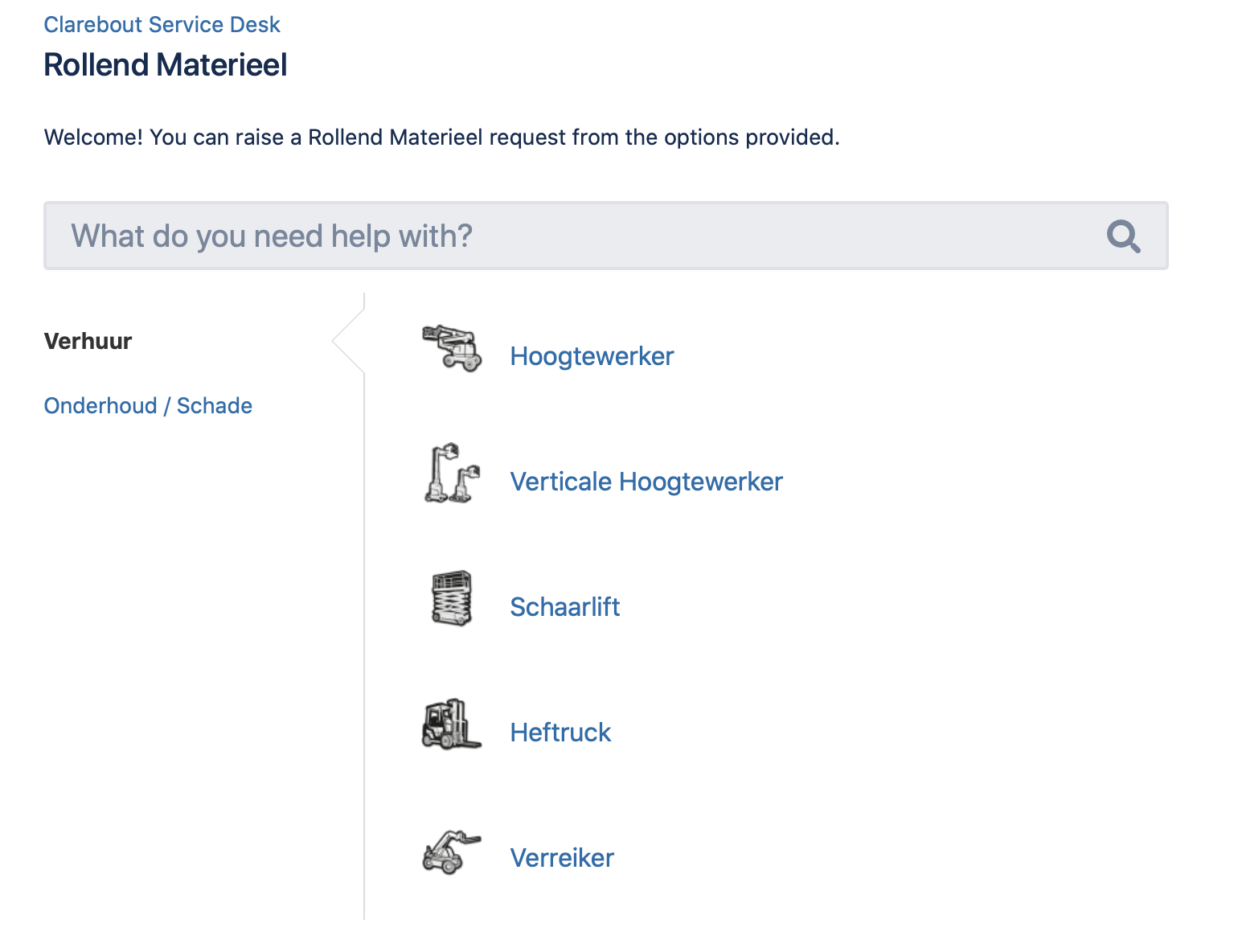 After choosing a type of equipment, renters need to specify their requirements like height, whether the equipment requires fridge resistant oil, where they'll be needing it, and so on.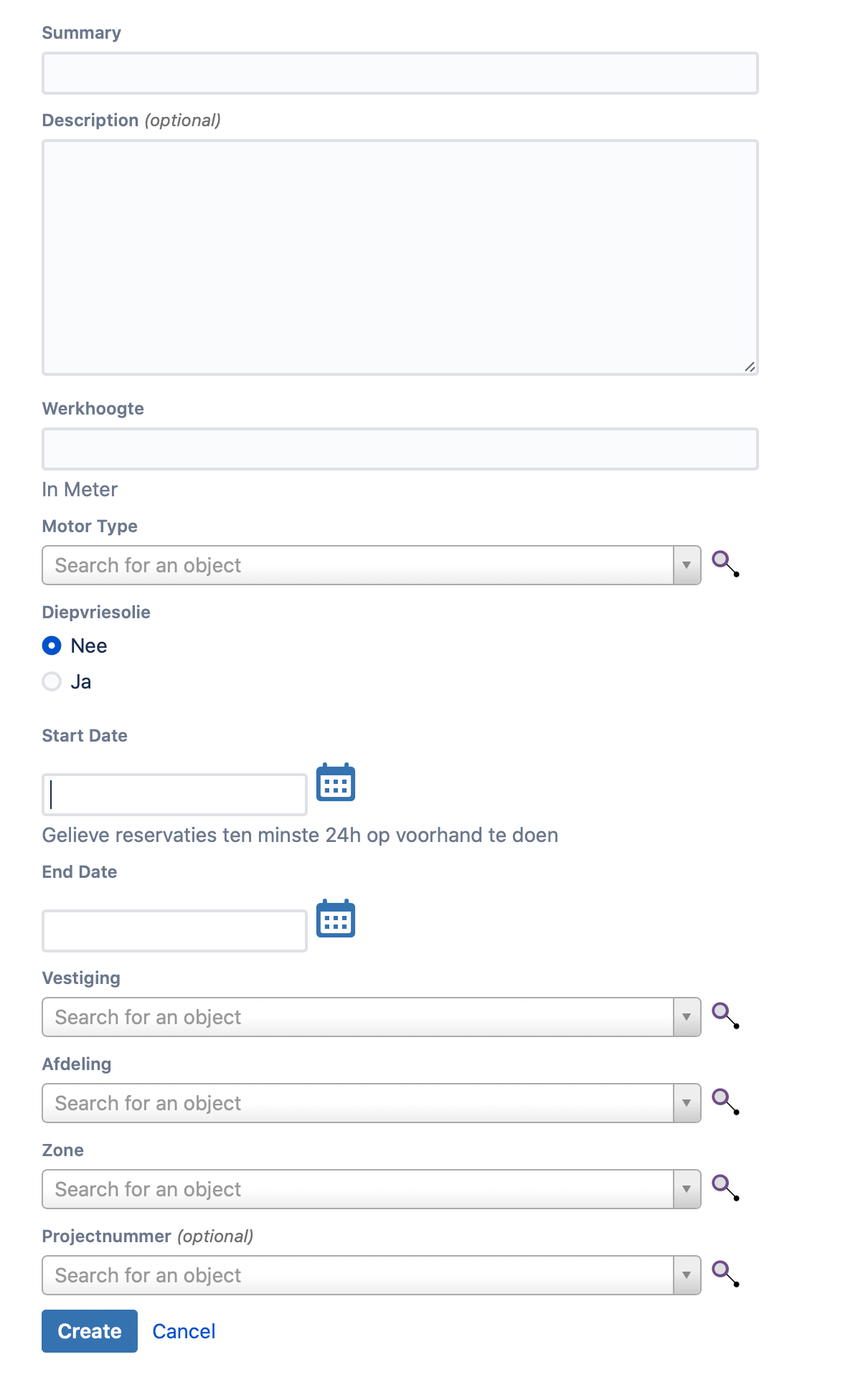 Once the order is approved, the renter can collect their equipment at the security office.
This is where things really got fun: all employees need to have a valid certificate to operate the equipment. In order to securely oversee who has a permit to operate certain equipment, we imported every employee's data in Insight. The system then conducts the necessary checks when someone requests a piece of equipment, and only if they are allowed to operate it does security hand it over.
An important part of running a renting business is planning. This is where Structure and Structure.Gantt come into play. The Structure.Gantt app allows us to visualize, track and manage equipment in easy-to-use Agile Gantt charts. In short, it provides us with a clear overview of which materials are onsite, reserved or in use. (The image below is blurred to protect our customer's privacy, but should give you an idea of what it looks like nonetheless.)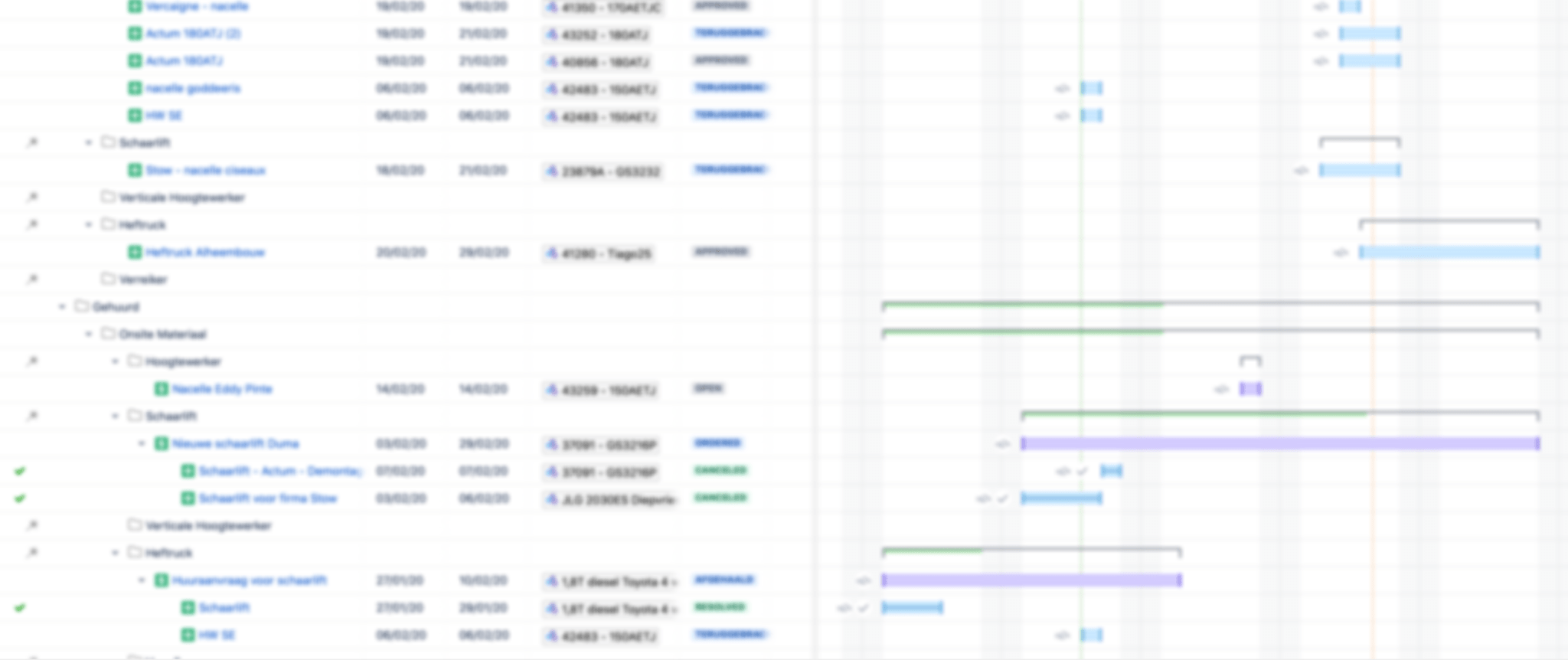 Cool stuff, don't you think? But why stop there?
Reporting broken equipment
Aside from the renting part, the company-owned equipment is spread all over the facility. And as with all equipment, they need maintenance or sometimes they just break and need to be fixed.
Luckily, users can easily report broken equipment through Jira.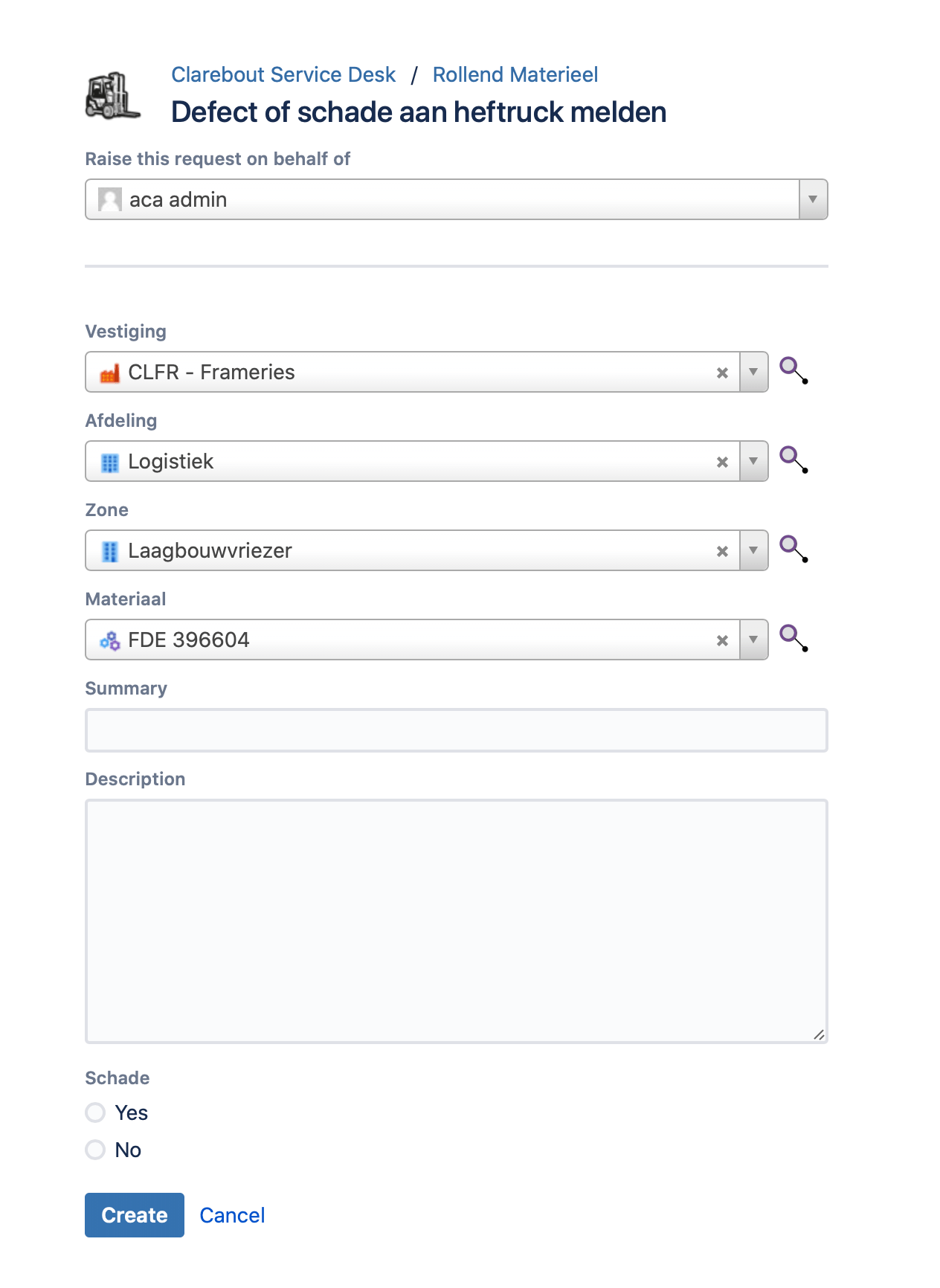 Insight allows us to use a location-based selection of equipment. Therefore, the first step to report a broken or damaged piece of equipment is to select where exactly in the factory you are, and based upon that location, get a limited list of forklifts at that specific location. This way, users don't have to sift through endless lists of equipment before reporting a problem. After selecting the appropriate equipment, users define the problem and mark whether it is damaged or just malfunctioning to complete the ticket.
Jira then automatically sends the ticket to a third party depending on which malfunction it is: tyres go to a tyre company, general things to the vendor, batteries to the battery specialists, and so on. With Elements Copy & Sync, we created a linkend and a synced issue in the teams/vendors project. That way, the teams or vendors responsible for working on fixing a piece of equipment can get to work ASAP.
So, users can report damage to for example a forklift or a building. But what about linking these events together? Of course that's a possibility, but in a more 'traditional' way than what you're probably thinking of. Users just have to click on their inside location and see what tickets are open on that location. If there's a damaged forklift and you got a damaged gate, on the same day, at the same location… 1+1=2. 😉
I hope you enjoyed reading this, because I had an awesome time implementing it! If you want to see what else we did with Jira at Clarebout, you can always read our case study here. Interested which Atlassian solutions we might offer you? Check out our Atlassian services!
Read more tips & experiences